Wenn
Holz und Moderne


ineinander verschmelzen

NAHTLOSE EINGLIEDERUNG IN NATUR
In this architect's house the wood materials, the modern and the hillside position merge and breakdown perfectly in the Alpine foothill scenery. The generous windows bring the nature into the living space and create a symbiosis between indoors and outdoors.
Architect | Architekturwerkstatt Haderer GmbH Photographer | Erich Sinzinger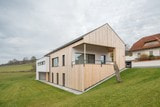 Classic interpreted as modern
On the one hand, this interesting architectural property impresses through the modern reinterpretation of the classic saddle roofs. On the other hand, we made an optimal use of the hillside position during the planning stage.
Entrance doors with high design standards: The flush-fitting Nevos in combination with the frameless all-glass system FixFrame as well as the extensions with flat roof give the property a specially modern accent.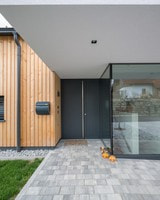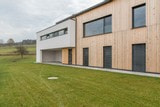 Nature, as far as the eye can see
The generous glass elements, surrounded by also generous wooden façade open up to the panoramic view of the green Mühlviertl nature. Above, the in-house developed flush-fitting glass ballustrade supports the modern look of the house.
Built-in products


at a glance
#PRODUCT#
has been added to the watch list!
Show