Ein
neues Raumgefühl

schaffen

aus alt wird neu
A renovation offers the possibility to convey to the existing building a completely new sense of space. You can not only fulfil the wish for more brightness, transparency and lightness. But at the same time, the renovation is easily noticeable when it comes to the operating costs.
Architect | Jochen Klarmann Photographer | Sabine Bungert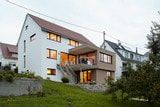 New harmonious overall appearance
The old stock was skilfully set centre stage with the new elements and creates a harmonious overall picture.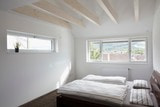 Back to the Roots
In our contemporary digital, complex world there is a great longing for calm and tranquillity, for simplicity and naturalness. This wish can be perfectly combined with the simple Safir windows.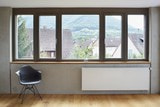 Colours in play
The shades of brown in particular have the property of conveying more warmth, naturalness and homeliness to the rooms.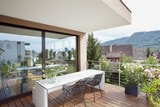 Pure nature at home
The Platin Blue lift-and-slide door brings the nature into the living space and opens up wonderful views overlooking the surroundings.
Built-in products


at a glance
#PRODUCT#
has been added to the watch list!
Show