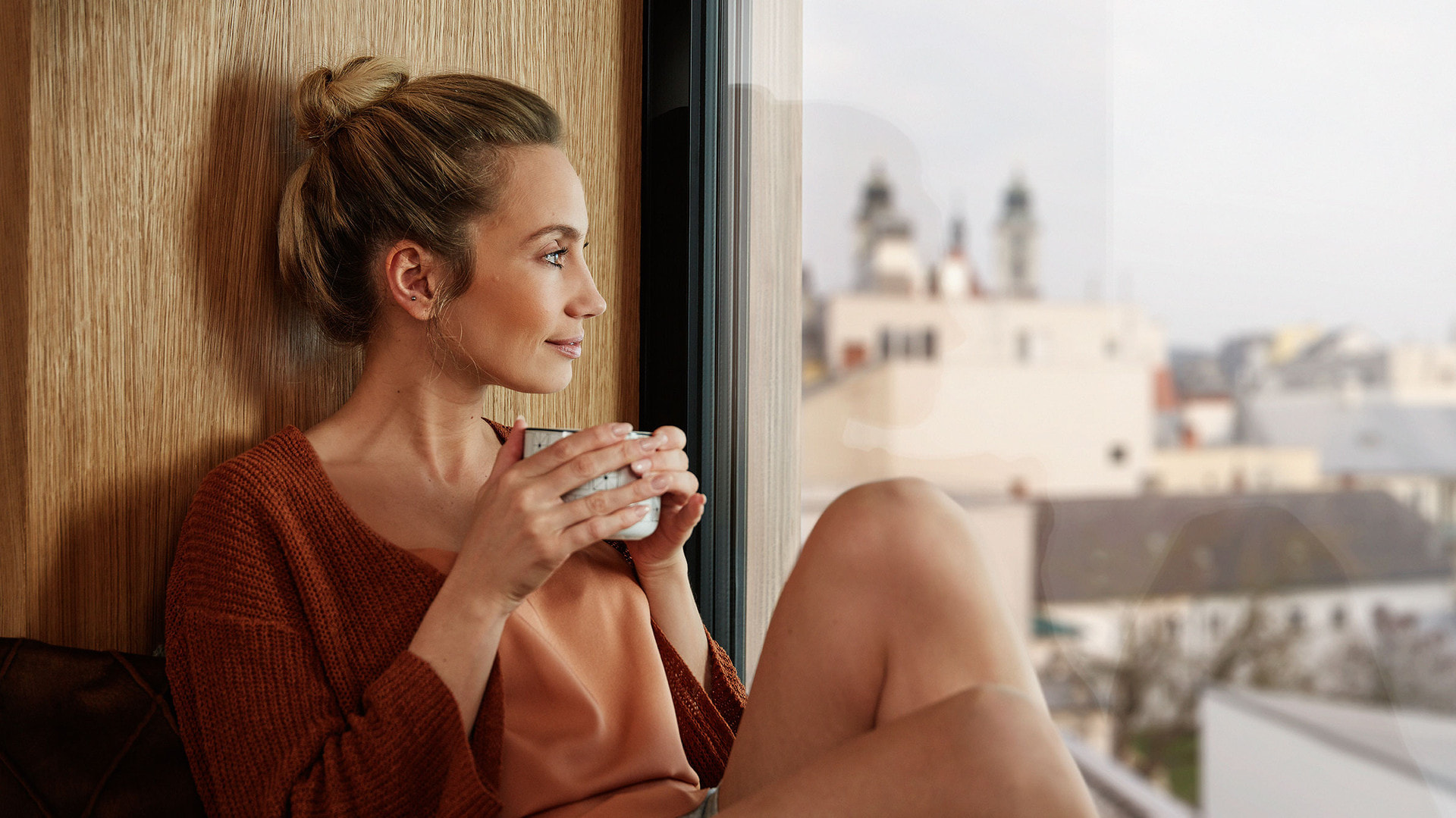 Last updated: 16.05.2018
Company responsible
The company responsible for processing your personal data on our website is JOSKO WINDOWS AND DOORS GMBH. You can find our information in legal notice. We take the protection of your personal data very seriously. We treat your personal data as confidential and in accordance with the statutory data protection regulations and this privacy policy. Your data will not be passed on to other recipients without your express consent.
Collection, processing, and use of personal data
Access data/server log files
We automatically collect and store in our log files the information automatically provided by your internet browser. This includes:
Browser type / version,
operating system used,
referrer URL (the previously visited website)
the host name of the accessing computer (IP address)
the time of the server request
the amount of data transferred
report as to whether the access attempt was successful.
Users' IP addresses will be erased or anonymised after cessation of use. In the case that the IP addresses are anonymised, they are changed in such a way that details of personal or material circumstances can no longer only be associated with an identified or identifiable natural person or can only be associated with an identified or identifiable natural person with a disproportionate investment of time, cost, and labour. The data in the log files are analysed by us in anonymous form in order to further improve the website, make it more user-friendly, and find and correct errors more quickly. In addition, they are used to control server capacities so that appropriate data volumes can be made available if necessary.
Contact form
If you contact us using the form on the website or at office@josko.at, we will store the data you provide for 7 days for the purpose of processing the request and in case of follow-up questions. We do not share this data without your permission.
Newsletter
You can subscribe to an e-mail newsletter via our website. For this we need your e-mail address and your declaration that you agree to receive the newsletter. To provide you with targeted information, we also collect and process voluntarily provided information about your building project. As soon as you have subscribed to the newsletter, we will send you a confirmation e-mail with a link to confirm your subscription. You have the right to revoke your consent at any time by means of a written notification or (in the case of the e-mail newsletter) by clicking on the unsubscribe link, without affecting the legality of the processing carried out on the basis of your consent prior to you revoking it.
Competition
After you submit the competition form, the above-mentioned data will be processed for the purpose of carrying out the competition on the basis of the competition agreement. As agreed to for this purpose, the data will be further processed on the same legal basis for the purpose of direct marketing. There is no obligation to provide the data. If you do not provide the data, it will merely mean that you will not be able to take part in the competition and your data will not be processed further.
Disclosure of data to third parties
The data collected by us will only be passed on to third parties if this is necessary for the purpose of contract processing or invoicing or if you have given your prior consent. The data shared in this way may only be used by our service providers to fulfil their task. These providers have been carefully selected and commissioned by us in writing. They are bound by our instructions and are regularly checked by us. Any other use of the information is not permitted and also does not occur on the part of the service providers entrusted by us.
Job offers and online applications
We advertise job offers on our website with the option of sending us an application online (by e-mail or via the contact form). If you apply for an advertised position, your data will only be collected and processed by us as part of the application process and deleted by us after the vacancy has been filled, unless legal requirements require longer storage. You have expressly agreed to longer storage in the event that a position is to be filled again later, or we conclude an employment contract with you, in which case the data will be stored by us in the personnel file and for processing payroll accounting in compliance with the statutory data protection requirements.
Cookies
Our website uses cookies. These are small text files that are stored on your device using your browser. They do not harm your computer. We use cookies to make our website user-friendly. Some cookies remain stored on your device until you delete them. They enable us to recognise your browser next time you visit the website. If you do not want this to happen, you can configure your browser to notify you of the use of cookies only accept cookies in individual cases. Disabling cookies may limit the functionality of this website.
You can find more information about the cookies used on this website here.
Web analysis with Google Analytics
This website uses Google Analytics, a web analysis service provided by Google Inc. ("Google"). Google Analytics uses "cookies", text files that are stored on your computer and that enable your use of the website to be analysed. The information generated by the cookie about your use of this website is usually transmitted to a Google server in the USA and stored there. However, if IP anonymisation is enabled on this website, your IP address will first be abbreviated by Google within the member states of the European Union or signatories to the Agreement on the European Economic Area. Only in exceptional cases is the full IP address sent to a Google server in the US and abbreviated there. Google will use this information on behalf of the operator of this website to evaluate your use of the website, compile reports on website activity, and provide other services related to website and internet usage for the website operator. The IP address transmitted by your browser as part of Google Analytics will not be associated with any other data held by Google. You can prevent these cookies being stored by selecting the appropriate settings in your browser; however, we wish to point out that doing so may mean you will not be able to enjoy the full functionality of this website. Furthermore, you can prevent the data generated by the cookie and related to your usage of the website (including your IP address) from being collected and processed by Google by downloading and installing the browser plugin available at the following link (http://tools.google.com/dlpage/gaoptout?hl=de).
You can prevent data collection by Google Analytics by clicking the link below. This sets an opt-out cookie that prevents the future collection of your data when visiting this website: Enable trackingDisable tracking
You can find more detailed information on Google's Terms of Use and Privacy Policy at http://www.google.com/analytics/terms/de.html and at https://www.google.de/intl/de/policies/. We would like to point out that Google Analytics has been extended on this website by the code "anonymizeIp" in order to ensure anonymous collection of IP addresses (known as IP masking).
Google Tag Manager
We use the Tag Manager service provided by Google Inc., 1600 Amphitheatre Parkway, Mountain View, CA 94043, USA ("Google") to manage our website and to incorporate cookie-based technologies. For this purpose, your IP address is transferred to a Google server, which may also be located in the USA, each time you visit one of our internet pages. The IP address is not stored by Google as part of the Tag Manager service and is only used to integrate the technologies managed by Tag Manager. The Tag Manager itself does not set any cookies.
Google AdWords
As an AdWords customer, we also use Google Conversion Tracking, which is an analysis service provided by Google, Inc. (1600 Amphitheatre Parkway Mountain View, CA 94043, USA; "Google"). Google AdWords places a cookie on your computer ("conversion cookie") if you reached our website via a Google ad. These cookies expire after 30 days and are not used for personal identification. If you visit certain pages on our website and the cookie has not yet expired, we and Google will be able to tell that someone clicked on the ad and was redirected to our page. Each Google AdWords customer has a different cookie. This means that cookies cannot be tracked via the websites of AdWords customers. The information obtained using the conversion cookie is used to create conversion statistics for AdWords customers who have opted into conversion tracking. AdWords customers can find out the total number of users who have clicked on their ad and been redirected to the page with a conversion tracking tag. However, advertisers do not obtain any information that can be used to personally identify users. If you not wish to participate in the tracking process, you can also reject the cookie required for this, for example by using the browser setting that disables the automatic placement of cookies in general. You can also disable cookies for conversion tracking by setting your browser to block cookies originating from the domain "www.googleadservices.com".
Google Remarketing
Our pages use retargeting technologies from Google. This service is provided by Google Inc. 1600 Amphitheater Parkway Mountain View, CA 94043, USA.
This makes it possible to show visitors to our sites targeted, personalised, interest-based advertising. The adverts are inserted on the basis of cookie-based analysis of previous usage and surfing habits. To our knowledge, no personal data are stored in doing so. For this purpose, a cookie is stored that will collect anonymised data about the interests of users and customise advertising according to this information. These cookies are small text files that are stored on your computer or mobile device. You can permanently reject the use of cookies for retargeting by disabling interest-based advertising by Google here: https://www.google.com/settings/ads/onweb/
You can find more information and the data protection regulations in Google's Privacy Policy at http://www.google.com/policies/technologies/ads/
JavaScripts
YouTube
JaveScript code from YouTube, LLC 901 Cherry Ave. 94066 San Bruno, CA, USA (hereinafter Youtube) is loaded on our site. We use the provider YouTube to integrate videos on our website. If you have JavaScript enabled on your browser and have not installed a JavaScript blocker, your browser may transmit personal data to YouTube. We do not know what data YouTube links to the data received and for what purposes YouTube uses these data. For further information, see YouTube's privacy policy (http://www.google.de/intl/de/policies/privacy). To prevent the execution of JavaScript code from YouTube, you can install a JavaScript blocker (e.g. www.noscript.net) or www.ghostery.com).
Google Maps
This website uses the product Google Maps from Google Inc. By using this website, you consent to the collection, processing, and use of data collected automatically by Google Inc., its representatives, and third parties. You can find the Google Maps terms of use at: http://www.google.com/intl/de_en/help/terms_maps.html
Social media plug-ins
Facebook
Our website integrates plug-ins from the social network Facebook, 1601 South California Avenue, Palo Alto, CA 94304, USA. You can recognise them by the Facebook logo or the "Like button" below an article, as well as the "Facebook Blog Radar" and the Facebook Blog Page in the sidebar (collectively called Facebook plug-ins). These Facebook plug-ins establish a direct connection between your browser and the Facebook server when you visit our site. When you visit our site, Facebook receives information that you have visited our pages using your IP address. If you then click on the Facebook "Like button" on our page while logged into your Facebook account, the content of our pages will be linked to your Facebook profile. This means that Facebook can associate your visit to our site with your account. Please note that, as the operator of this site, we have no knowledge of the content of the data transmitted to Facebook or of how Facebook uses these data. Therefore, for further information regarding Facebook's privacy policy, please visit the following link: http://de-de.facebook.com/policy.php
If you do not want Facebook to associate your visit to our website with your Facebook account, please log out of your Facebook account when you visit our website.
Right to information and right of revocation
You have the right to see your personal data, as well as the right to correct it, delete it, or restrict its processing, and the right to transmission of the data. In addition, you have the right to revoke any consent you may have given to the processing of your personal data. The legality of the processing of personal data until the point at which consent is revoked is not affected by the revocation. You have the right to opt out of the processing of your personal data for the purpose of direct marketing. If you opt out, your personal data will no longer be processed for direct marketing purposes. You have the right to appeal to the supervisory authority (Austrian Data Protection Authority, 8 Wickenburggasse, 1080 Vienna, dsb@dsb.gv.at).
You can reach us via the following contact details:
JOSKO WINDOWS AND DOORS GMBH
JOSKO STRASSE 1
A-4794 KOPFING
Phone: +43 7763 2241 0
Fax: +43 7763 2810
Website: www.josko.at
E-mail: office@josko.at
You can reach our data protection officer at: datenschutz@josko.at