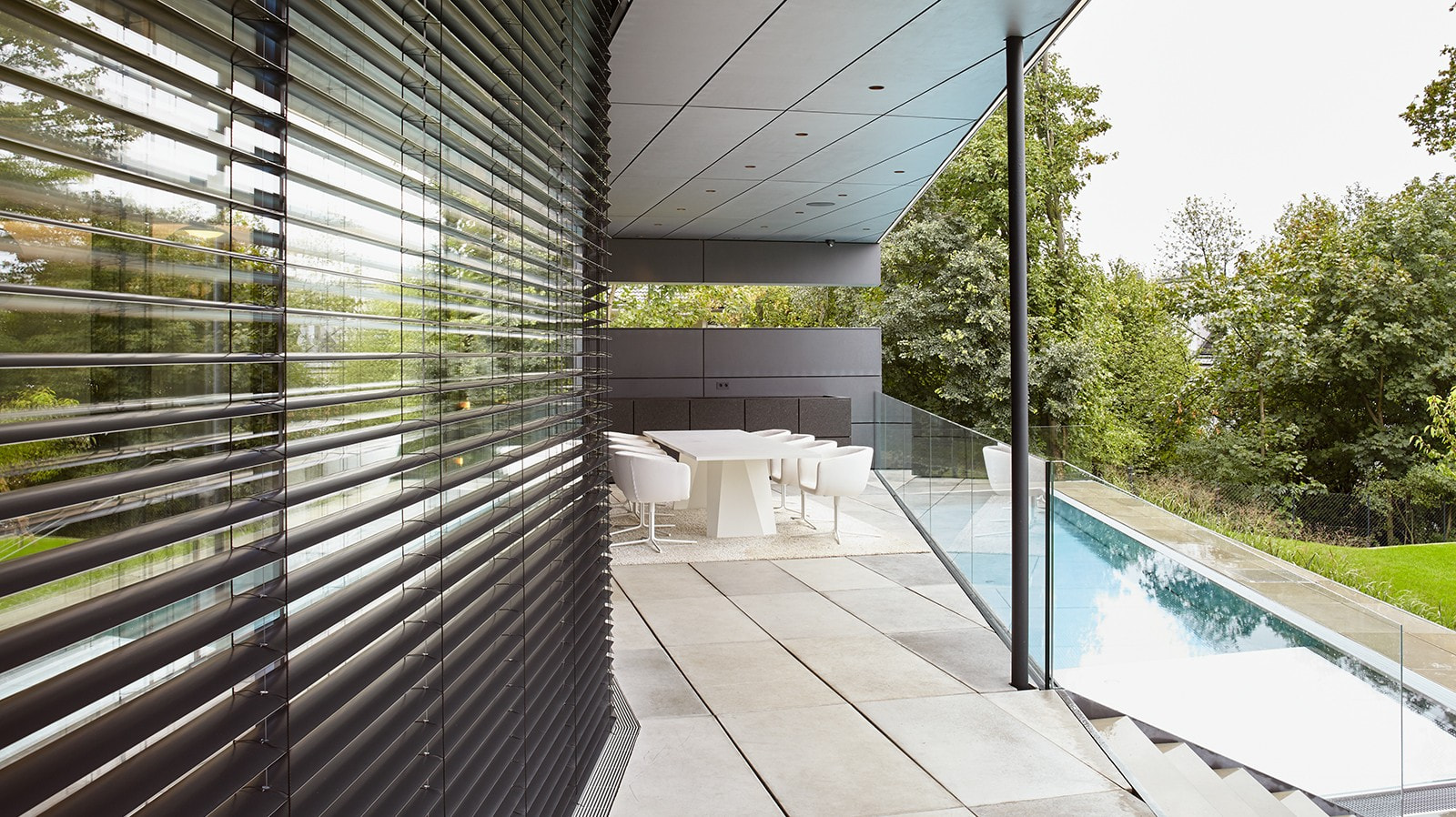 Sun shade
Nice, when light and shadows dance back and forth
All components are visually coordinated
Infinitely adjustable for efficient shading with every incidence of light
Developed for large glass surfaces
Elegant corner solutions
Flush, discreet guide rail
Elegant finish with the façade
Timelessly beautiful window shutters
Josko external Venetian blinds make it easy!
Flush guide rail
Smart Home ready
Customer supplied brick box
We have thought of everything
Venetian blinds
Venetian blinds
Josko external Venetian blinds have a fascinating way of increasing the quality of life. They ideally combine the functions of glare protection and heat protection in one high-quality product. A completely closed external Venetian blind shields you from unwanted views in and out and thus safeguards your privacy as you wish.
Manufactured with special care, they comply with European standards and meet the highest demands on design, function and service life. They create a feel-good atmosphere and help save energy.
Easy external Venetian blind
Infinitely variable
Open, half-open or closed. The infinitely variable control enables the lighting ambience that suits you.
View despite shading
A major advantage of external Venetian blinds is the possibility of a half-open or inclined slat position, which provides privacy and sun shade, but with which a certain view and incidence of light is still preserved.
Suitable for large glass surfaces
We usually use Venetian blinds for large glazing. Despite protection over the full height of the room, the space-saving slats can be efficiently hidden in the box.
Slats
Design slats D75 for high levels of darkening with an elegant design
Sie ist eine Alleskönnerin – ihre Eigenschaften sind denen der Z-Lamelle sehr ähnlich. Auf - grund ihrer S-Form wirkt sie allerdings weicher und eleganter und passt gut zu dir, wenn dir behagliches Wohnen wichtig ist.
Z-shaped slat Z90 for strong darkening
Sie vereint viele Eigenschaften – ihre geradlinige Optik bietet sehr gute Windstabilität und verbes - sert die Abdunklung im geschlossenen Zustand. Im geöffnetem und halbgeöffnetem Zustand lässt sich der Lichteinfall sehr gut steuern – für Wohnraum und Schlafzimmer bis hin zum Arbeitszimmer die ideale Lamellenform.
Space-saving flat slats F80 for large areas
Sie ist das Einstiegsmodell, fällt relativ schlank aus und kehrt wieder in ihre Ausgangsform zurück, sollte sie auch mal von einem Spielball getroffen werden.
Standard slat S80
Sie spart aufgerollt 20 %* Bauraum, gewährleistet 38 %* bessere Sicht, wenn die SonnenschutzLamellen aufgestellt sind und eine bessere Abdunklung, wenn sie geschlossen sind.
*im Vergleich zum Vorgängermodell
More options
roller shutters
Dark or light, warm or cool. Josko roller shutters keep the heat where it belongs. Outside in summer and inside in winter. They help to save energy, function and maintain without problems, are attractive in terms of price and provide the window with valuable weather protection. The new roller shutter systems are decorative, elegant and extremely functional - available in many colours.
folding shutters
A house with folding shutters has a very special charm and brings with it a Mediterranean or classic style. Josko folding shutters offer good sun shade and steadfastly defy wind and weather.
At Josko you basically have the and choice betweenelectrically and manually controlled sun shade solutions.
Products equipped with electric motors (almost always the case with external Venetian blinds) can be operated in the following 3 ways:
remote control
Button in the wall
Smart Home (open to all common standards)

In the case of a manual drive (often the case with roller shutters) you can choose between
Belt or cord (either wall-inlet or as a swivel winder)
Crank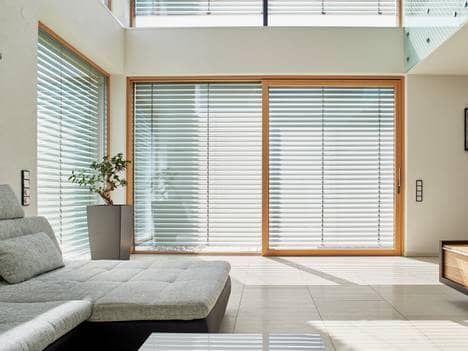 Smart Home with Somfy io makes your home intelligent and your life safer and more comfortable. The motor system allows you to operate your Josko sun shade system either automatically at certain times or via smartphone, tablet or PC - not only from home, but also when you are out and about.
Another advantage of Somfy io is that it can also be easily integrated into your home at a later date, as it does not need to be wired to function. The expansion from the first installed device is possible at any time.
Coordinated accessories
Coordinated accessories
Although we already offer an exceptionally wide range of products, your dream home sometimes still needs additional accessories such as
insect screen
Window sills for inside and outside
Comfort ventilation
Glass ballustrade
and much more.
Your contact person at Josko will also be happy to help you, so that you can get everything to do with windows and doors down to the last detail from a single source.