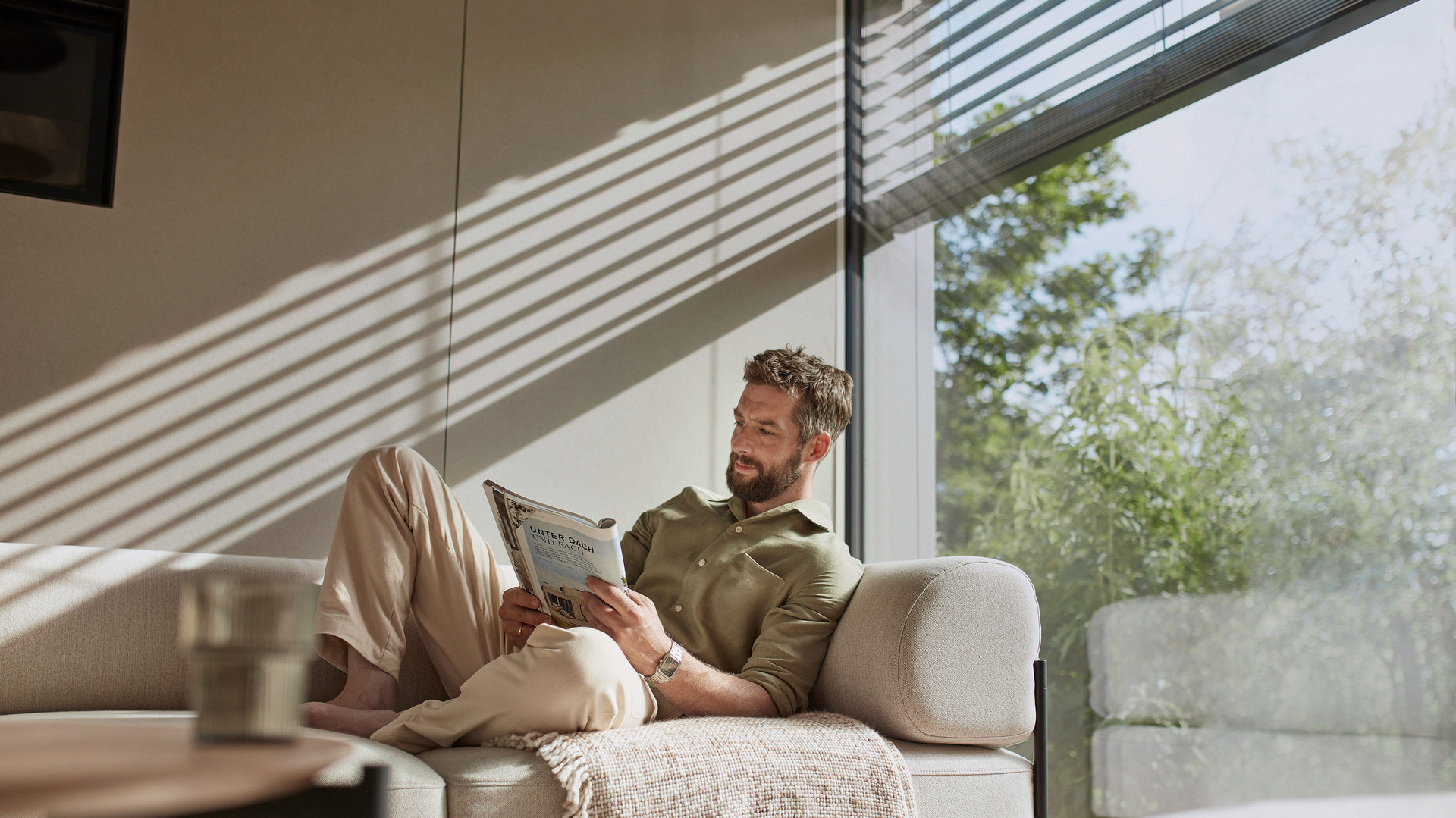 Sun shade
Nice, when light and shadows dance back and forth
wind-resistant up to over 100 km/h
special light accents
Continuously adjustable view with heat protection effect
Developed for large glass surfaces
Elegant corner solutions
optimal glare protection
All components are visually coordinated
Flush, discreet guide rail
Elegant finish with the façade
Everything fits together
We develop and produce our  sun shades ourselves, which offers the essential difference that they are tailored to our windows, sliding doors and all-glass systems – in terms of technology, look and in the same colour shades. Sun and privacy protection is not only functional, but also an aesthetic and overall intelligent solution.

With Venetian blinds, textile screens, roller shutters and folding shutters for the outdoors and internal Venetian blinds for the interiors we offer you an optimal solution for every application.
Intelligently protected
Intelligently protected
As window surfaces become larger, sun and insect protection becomes more important. Our elegant sun and privacy protection solutions provide plenty of shade during the day and ensure even temperatures inside your house while the sun blazes outside.
In the eventing they keep away prying glances, protect against weathering and help you save on energy.
For
every

requirement
the ideal solution
Roller shutters

Venetian blind

Vertical awning

Type of mesh 10%

Vertical awning

Type of mesh 5%

Vertical awning

Type of mesh 1%

Vertical awning

Type of mesh 0%

Sun shade (heat protection)
++++
++++
+
++
+++
++++
Viewoutwards
++++
+++
++
+
Darkening inwards
++++
++
+
++
+++
++++
Visibility protection at nightinwards
++++
+++
++++
Wind resistance
++++
++
++++
++++
++++
++++
Element size (maximal)
+
+++
++++
++++
++++
++++
Box dimension (space-saving)
++
++
++++
++++
++++
++++
Bestseller
Bestseller
Coordinated accessories
Coordinated accessories
Although we already offer an exceptionally wide range of products, your dream home sometimes still needs additional accessories such as
Insect screen
window sill for inner and outer
Comfort ventilation
Glass balustrades
and much more
Your contact person at Josko will also be glad to help you, so that you receive everything to do with windows doors to the last detail from a single source.