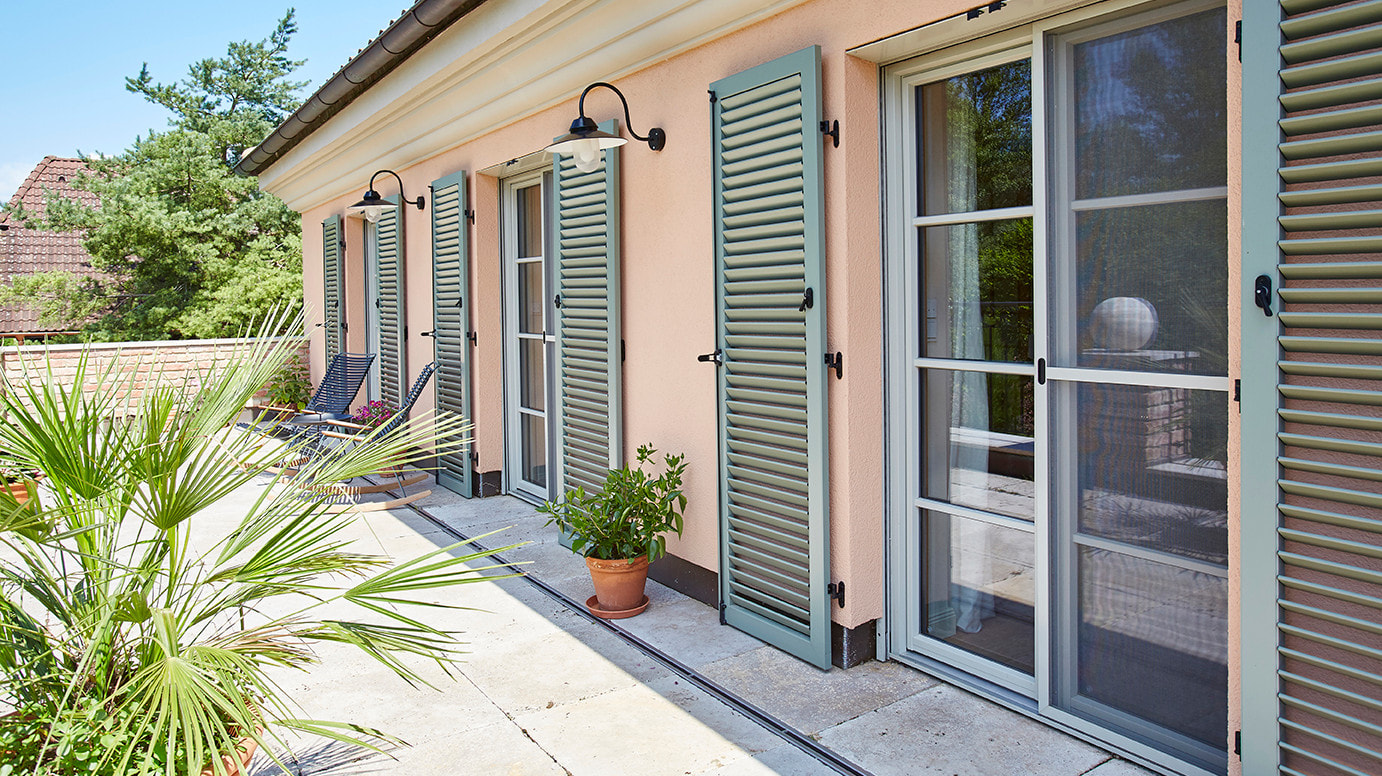 Opal Alu
PVC/Alu windows - rebated outside and inside
Classic look

- Modern technology. Proven for 20 years.

The Opal Alu productline is harmonised and offers all common opening variants - windows, patio doors, Fixed Parts and sliding doors.
Designline Classic
REBATED LOOK OUTSIDE
Rebated look inside
SURPRISINGLY EASY TO CLEAN
DECORATIVE FOILS
COUPLING
Proven economical
PVC
Opal Alu windows & patio doors
DETAILS MATTER
GLAZING BAR OPTIONS
For Opal, several glazing bar options are available. No matter if placed on the in-or outside or in-between panes - glazing bars create a comfortable home.

BARRIER-FREE
Floor-to-ceiling windows and patio doors are exposed to high weather conditions. The barrier-free Isostep threshold does not give even large amounts of water a chance. Thanks to good thermal insulation, the interior remains particularly comfortable. Available in many colours on request.

Opal Alu lift-and-slide door
Opal Alu lift-and-slide door
Lift-and-slide doors are also popular elements in classic architecture: They open the view to the outside and create generous transitions. The Opal Alu lift-and-slide door combines the tried and tested materials PVC and aluminium with the modern state of window technology.
DETAILS MATTER
BARRIER-FREE THRESHOLD
The Isostep threshold has an especially high heat insulation due to the GRP fibre reinforced PVC and is also designed with a high resistance to driving rain. New! Available in many different colours.
EVEN SLIMMER VISIBLE WIDTH
The new Opal lift-and-slide door offers even more transparent freedom now.

Slim guide rail
Aesthetics in every detail of Josko products. The upper guide rail is slim and elegant.

Colours, materials & surfaces
Colours, materials & surfaces
A large selection enables you to design your Josko products exactly to your taste for your unique home.
One-stop
service
sun shade
When modern architecture leads to larger window areas, elegant sun and privacy protection solutions are becoming increasingly important. These provide plenty of shade during the day and ensure that the temperature inside the house is balanced in summer. In the evening they primarily hold off curious glances.
With Venetian blinds and roller shutters, Josko offers you the ideal solution that is coordinated and well thought-out as an integrated overall system. No visually unsightly handicraft solutions from different manufacturers, no coordination of multiple contacts, just Smart Mix.
Coordinated accessories
Although we already offer an exceptionally wide range of products, your dream home sometimes still needs additional accessories such as
insect screen
Window sills for inside and outside
Comfort ventilation
Glass ballustrade
and much more.
Your contact person at Josko will also be happy to help you, so that you can get everything to do with windows and doors down to the last detail from a single source.
We recommend
in the Smart Mix
In combination with the following solutions, you can harmoniously coordinate your home in the same style:
TECHNICAL INFO FOR OPAL ALU
Opal Alu
Best value: Uw 0,72 W/m²K
system depth: 91 mm
OPAL PLUS ALU
Best value: Uw 0,64 W/m²K
system depth: 91 mm
Material: outside aluminium | inside PVC
Surface outside: Alu effect, RAL and NCS colours

Surface inside: White PVC or, optionally, decorative films possible
Sustainability: the PVC is cadmium-free
In 4 steps to a
tailor-made offer
1. MAKE AN INQUIRY USING THE CONTACT FORM
Let us know how you envision your project and what plans you already have.
2. ARRANGE A PLANNING MEETING
Your local Josko contact person will contact you to arrange an appointment for a consultation with our experts.
3. EXPERIENCE THE PRODUCT ON SITE & COORDINATE DETAILS
In the Josko showroom near you, you can experience the variety of products and coordinate your wishes with your consultant.
4. RECEIVE AN OFFER
Your Josko consultant will create an offer tailored to your project & discuss this with you in peace.