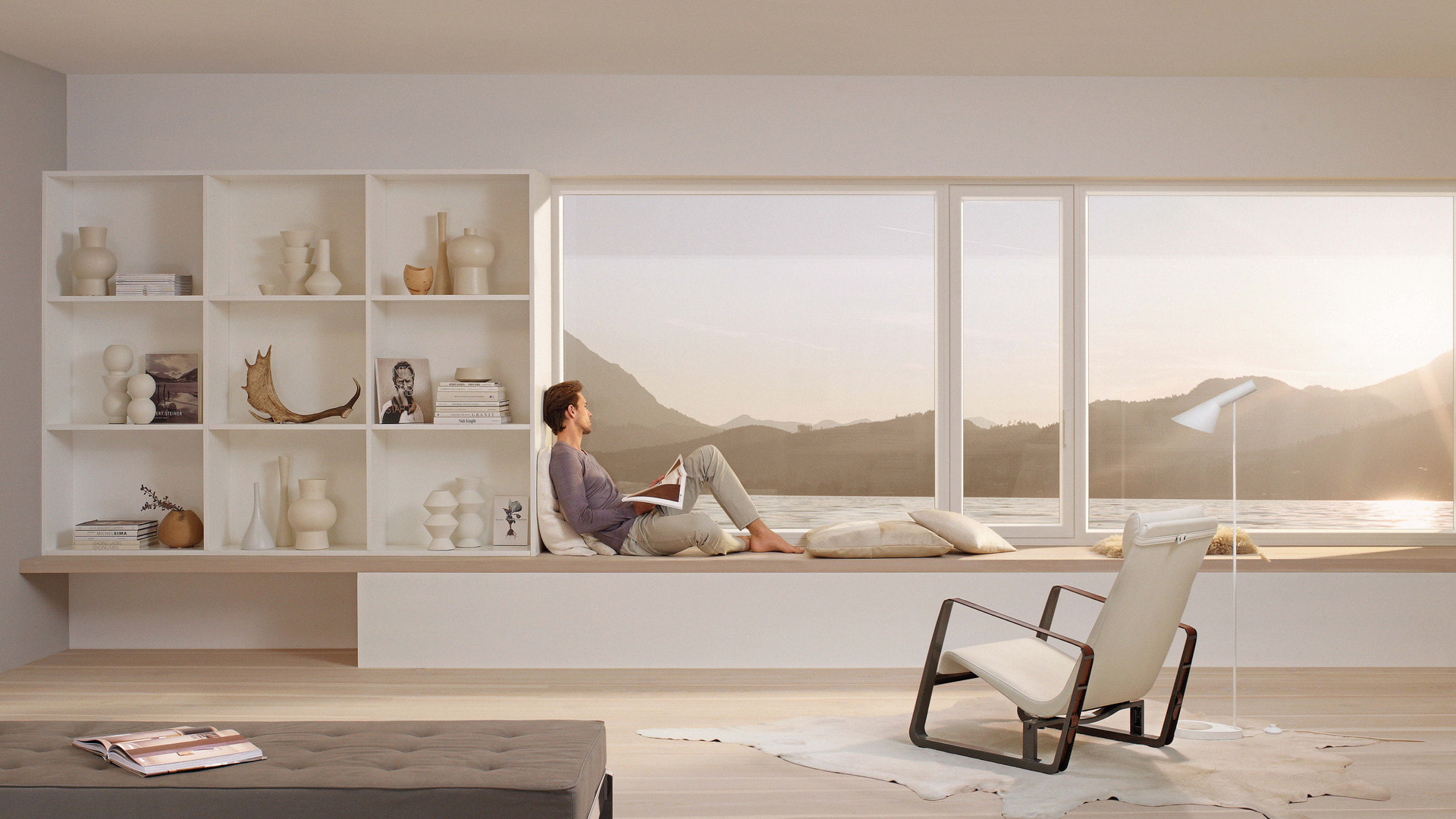 Safir
PVC/aluminium windows - flush and slim on the outside and inside
The ideal
combination with Platin
The Safir product line is harmonised and offers all common opening variants - windows, patio doors, Fixed Parts and sliding doors.<br/> It can also be optimally combined with wood/aluminium windows from the Platin line.
Design line Modern
flush finish
More light 365 days
beautiful corner connections - very easy to clean
Connection of several elements
EASY TO CLEAN
ALU COVER AS STANDARD
HEAT VALUE PATENTED
Safir windows & patio doors
DETAILS MATTER
LARGE DIMENSIONS
High rooms have special options when it comes to the variety of furnishings and, with sufficient daylight, appear airy and light. Our patio doors support this lifestyle with a height of up to 2.70 m.
STRONG STRUCTURE SLIM DESIGN
If openable windows and Fixed Parts are combined with one another and these are oversised, a screwed-on pilaster strip inside is required for the structure. Our pilaster strips are beautifully slim, but thanks to the steel core they still provide a reliable hold even with particularly high demands.
BARRIER-FREE OUTWARDS
The Isostep threshold has an especially high heat insulation due to the GRP fibre reinforced PVC and is also designed with a high resistance to driving rain. New! Available in many different colours:
 
pull handle
Functional and aesthetic - the swivel-mounted pull handle designed by Josko. So slim and flat that it easily fits under an insect screen sliding frame.
EXCELLENT DESIGN
Awarded the RedDot Design Award 2012, the PVC/aluminium window Safir scores above all in the details and also sets standards in terms of structure, tightness and thermal insulation.
Safir Blue HS
DETAILS MATTER
SLIM, FLUSH-FITTING DOOR LEAF DESIGN
A first for Josko: modern all-glass design in less expensive PVC material.
 
Slim guide rail
Aesthetics in every detail of Josko products. This way, the guide rail of our lift-and-slide door runs upwards and is installed flush in the frame without any additional profile. Simple and elegant, because we develop and manufacture our products ourselves.
EASY TO USE
Our lift-and-slide door has 8 running rollers, not just 4, as is usual on the market. These ensure that doors, i.e. the sliding sash, which often weighs up to 400 kg, can be opened effortlessly.
BARRIER-free threshold
The passage from the inside to the outside is barrier-free, because our threshold is designed without tripping hazards. At your request, we can integrate the insect screen sliding frame here for an even simpler look.
Safir Blue all-glass system
Safir Blue all-glass system
The Safir Blue Fixed Parts together with the Safir Blue lift-and-slide door result in a contemporary all-glass system that meets all the requirements of modern living. The interior is made of cheaper PVC and is ideal for anyone looking for the highest design with a good price-performance ratio. 

 
DETAILS MATTER
CAN BE COMBINED WITH THE SMART MIX CONCEPT
As with the Platin Blue wood/aluminium all-glass system, the slim frames are equipped with reassuringly weather resistant aluminium on the outside. Both systems can be used harmoniously on one object, as they maintain the same external appearance. This is not only architecturally smart, but also budget-friendly. 
 
Slim and efficient
With its slim look, Safir Blue ensures bright, open living and for the first time with PVC. 
Glass-Bead free look
Beauty is in what you don't see – such as glass strips and joints. The slim elevation with slanted frame also favours light incidence and solar energy production.
SUN AND SIGHT PROTECTION
Generously dimensioned glass surfaces let in plenty of sun, which means that the rooms are warmed up in winter. And in summer? External blinds help to control the amount of sunlight and keep the room temperature within a comfortable range. Thanks to sun shade, there is nothing to see for prying eyes either.
 
Colours, materials & surfaces
Colours, materials & surfaces
A large selection enables you to design your Josko products exactly to your taste for your unique home.
One-stop
service
sun shade
When modern architecture leads to larger window areas, elegant sun and privacy protection solutions are becoming increasingly important. These provide plenty of shade during the day and ensure that the temperature inside the house is balanced in summer. In the evening they primarily hold off curious glances.
With Venetian blinds and roller shutters, Josko offers you the ideal solution that is coordinated and well thought-out as an integrated overall system. No visually unsightly handicraft solutions from different manufacturers, no coordination of multiple contacts, just Smart Mix.
Coordinated accessories
Although we already offer an exceptionally wide range of products, your dream home sometimes still needs additional accessories such as
insect screen
Window sills for inside and outside
Comfort ventilation
Glass ballustrade
and much more.
Your contact person at Josko will also be happy to help you, so that you can get everything to do with windows and doors down to the last detail from a single source.
We recommend
in the Smart Mix
In combination with the following solutions, you can harmoniously coordinate your home in the same style:
TECHNICAL INFO FOR SAFIR
SAFIR PURE
Best value: Uw 0,71 W/m²K
system depth: 100 mm
SAFIR PLUS
Best value: Uw 0,67 W/m²K
system depth: 100 mm
Material: outside aluminium | inside PVC
Surface outside: Alu effect, RAL and NCS colours
 
Surface inside: White PVC or, optionally, decorative films possible
Sustainability: the PVC is cadmium-free
In 4 steps to a
tailor-made offer
1. MAKE AN INQUIRY USING THE CONTACT FORM
Let us know how you envision your project and what plans you already have.
2. ARRANGE A PLANNING MEETING
Your local Josko contact person will contact you to arrange an appointment for a consultation with our experts.
3. EXPERIENCE THE PRODUCT ON SITE & COORDINATE DETAILS
In the Josko showroom near you, you can experience the variety of products and coordinate your wishes with your consultant.
4. RECEIVE AN OFFER
Your Josko consultant will create an offer tailored to your project & discuss this with you in peace.
When enthusiasm
wins
prizes
Josko has received several national and international prizes in recent years. These awards reflect the quality awareness, the innovative ideas and the great commitment to ecology and climate protection.