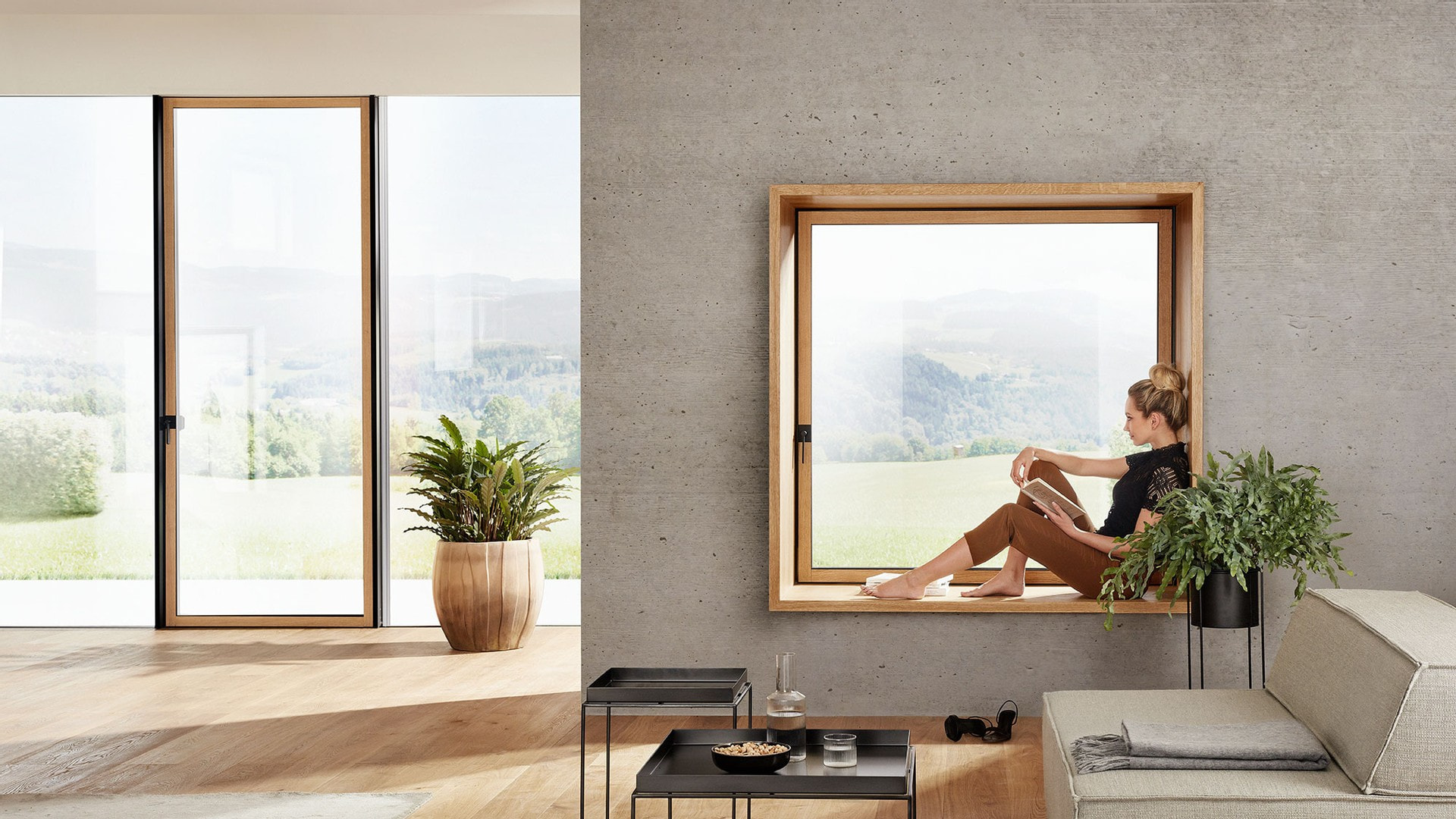 Seating niches
When your window invites you to take a break.
The seating niche
The seating niche
How often do you wish you had more time to go outside and enjoy nature? Besides work, children and the household, a long walk is not always possible. Wouldn't it be nice if nature came to you and you just had to take a seat?

With a seating niche directly at the window, this wish becomes a reality. Shapely windows from Josko with a panelling adapted by the carpenter as a seat create a place to relax.
Seating and lying areas as extensions to the window are becoming increasingly popular. Sometimes these are even so popular that they are a genuine alternative to the sofa for residents. Nature tuns into a television, so to speak.
You
wish you had a seating niche

by the window?
Noteworthy & inspirations
Noteworthy & inspirations
for comfortable seating with breathtaking views
If you are building a new building, you should definitely plan for the seating niche right away. It is best to involve your carpenter or joiner early on. You can then also integrate practical storage space under your niche. If you want to set up a seating niche in your current home without major renovations and have a suitable window area, you can place a large bench close to the window.
Both variants look particularly nice if you use a Fixed Part (non-openable window) with a narrow or invisible frame that offers you an unrestricted view of the outside.
Details matter
Details matter
for your individual dream home
At Josko you can choose between four systems: FixFrame is visually frameless, Platin Blue and Safir Blue have narrow frames in wood/Alu or PVC/Alu. The world novelty ONE offers slim and symmetrical frames on four sides, which can be equipped with different materials on the inside if required: Glass, aluminium, steel or different types of wood.
It is also important that the window has triple glazing and thus reduces the cold radiation in winter. This is the only way to be really comfortable.
Sun shade & Smart Mix
Sun shade & Smart Mix
make the finishing touches
Just as important is the right sun shade in summer, so that your interior does not overheat. Venetian blinds are a particularly elegant solution. They offer you shade, but can be adjusted so that you can still look outside.
If you choose a framed window, it should match the rest of your interior design as much as possible. With the Josko Smart Mix you can easily match the surfaces and colours of windows, doors and floors.
In 4 steps to a
tailor-made offer
1. MAKE AN INQUIRY USING THE CONTACT FORM
Let us know how you envision your project and what plans you already have.
2. ARRANGE A PLANNING MEETING
Your local Josko contact person will contact you to arrange an appointment for a consultation with our experts.
3. EXPERIENCE THE PRODUCT ON SITE & COORDINATE DETAILS
In the Josko showroom near you, you can experience the variety of products and coordinate your wishes with your consultant.
4. RECEIVE AN OFFER
Your Josko consultant will create an offer tailored to your project & discuss this with you in peace.